New News Post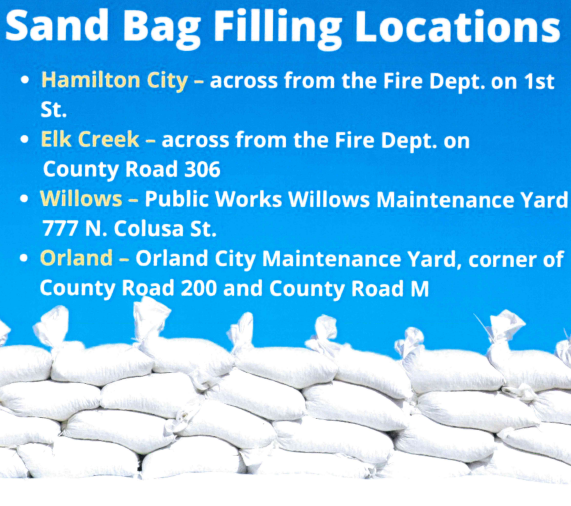 ---
GLENN COUNTY - The Glenn County Sheriff's Office-Office of Emergency is offering sandbags in multiple areas across the county due to expected excessive rainfall, possible flooding and heavy snowfall in the mountains beginning Thursday March 9th through Saturday.
For sandbag locations:
Hamilton City, across the fire department on 1st St
Elk Creek, across from the fire department on County Rd 306
Willows, Public Works Willows Maintenance yard in the 777 block of N Colusa St
Orland, Orland City Maintenance yard in the corner of County Rd 200 and County Rd M
According to AccuWeater, an atmospheric river is a long plume of moisture that originates from the tropics and extends into the mid-latitude region. Multiple atmospheric rivers developed from late December into February.
For general safety tips before a storm:
- Wear layers of warm clothing
- Watch for signs of frostbite and hypothermia
- Avoid travel due to road conditions
- Assemble an emergency kit
- Protect your home with sandbags or other materials
- Make sure all cell phones and radios are charged in the case of an evacuation notice
For safety tips on flooding, visit here:
https://www.weather.gov/safety/flood-hazards
For safety on heavy snowfall, visit here:
https://www.weather.gov/safety/winter
Details: https://twitter.com/GlennCountyOES/status/1633202100988686337